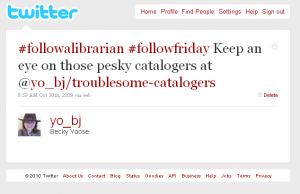 This month marks the one year anniversary of the twitter list of catalog and metadata librarians, yo_bj/magical-metadata-fairies (formerly Troublesome Catalogers). It's been quite a ride… which calls for some naval gazing.
The list was started in October of 2009 when Twitter turned on the Lists function for my profile. I was keeping track of a small list of catalogers that I created on Tweetdeck, so I had something to work off of. A few #followalibrarian self promotion tweets later, the list gained popularity. There was even a blog posting! Even though I first started the list to keep track of catalogers, the list's purpose has changed in the past year.
Throughout the year, I have a wide range of activity on the list. There have plenty of bitch sessions about bibliographic utility software, standards, rules, and the latest publication/post that reinforces the cataloger stereotype. That is to be expected, and one of the purposes of the list is to bring like-minded folks together, so, for many people, it's good to rant about something very specific to an audience who gets what you're ranting about. I have seen many more instances of catalogers helping each other out with cataloging questions and requests. I'll admit that I smile every time I see a conversation thread resulting from a cataloging question; I'd like to see the list become a gathering place on Twitter for catalogers to ask questions, converse, and share resources. It's already doing some of that now, but I know that there are more catalogers and metadata folks out there that haven't been found or haven't found the list yet.
When I search for potential list fodder, I find myself searching for the following terms through Twitter:
Cataloging (and Cataloguing)
Cataloger (and Cataloguer)
Metadata
AACR2 (RDA is less unique, therefore grabbing hits about dietary standards and gossip about a certain actor with the same initials)
"Cataloger" usually gets the most focused results, while the "metadata" results have a lot of noise from product/company/industry tweets. "Cataloging," however, brings out the most interesting results. Not only I catch catalogers with this, I also catch non-catalogers (and not companies) tweeting about cataloging. I see a wave of cataloging tweets from library students every fall and spring, ranging from hate to love of the joys of cataloging. There are many other people tweeting about cataloging, but in a personal context. I've seen people catalog vinyl records, photographs, comic books, DVDs, CDs, yarn, action figures, clothes, jokes, pick up lines, friends, relationships, and life goals. The results show a glimpse of the need for humans to organize things, to give things their place in the person's world.
But enough of the navel gazing – now for the fun facts about the list:
Followers (as of blog posting): 74
Following (as of blog posting): 155
Some of the countries represented:
Australia
Belgium
Canada
France
Japan
Netherlands
Slovenia
Switzerland
Thailand
United Kingdom
United States (majority)
Who are these troublesome catalogers/magical metadata fairies?
Artists
Army spouses
Burlesque performers
Comic book geeks
Conservatives
Cooks (or is that Cookery?)
Crafters
Cyclists
Dancers
Gamers
Hackers
Knitters
Liberals
Musicians
Parents
Pet lovers
Reporters
Sports fanatics
Students
Teachers
Writers
…. And those are just off the top of my head!
Happy anniversary, troublesome catalogers and magical metadata fairies. May you have many more years of wand-waving and Hell-raising.